Written By

Felipe Bernardes

Last Updated

April 04, 2020
Treehouse Review: All you need to know

As most of our daily life routine works comprise usage of the Internet, online education options are also gaining immense popularity. Instant availability has enabled us to access information anytime, anywhere.
When we talk about online education, there are many options available (infinite number of instructors and platforms), making it tough to decide which one to go with.
This is especially true if you are considering increasing your technology skills. You are certainly looking to start at a highly professional platform, right?
In our Treehouse Review, we will take a complete look at this tech teaching platform and check if it's worth considering to acquire new skills with their courses.
We will cover questions such as what Treehouse is, the advantages of learning on Treehouse, the complete course catalog description, and their pricing model.
Also, we'll describe all you need to know about their certificates. We'll even make a comparison of Treehouse vs. Udemy so that you can get an idea of which platform is best for learning.
Here we go!
About Treehouse
Treehouse is an e-learning platform that offers beginner to advance level courses in web development, mobile development, game development, and web design. Classes are taught by a team of experts.
This platform aims to facilitate and expedite the learning curve of aspiring programmers and web designers.
Treehouse was founded by Ryan and Gillian Carson in 2011. This project evolved from Carson's earlier company, named Carsonified (which provided video tutorial services). Then, Carson redesigned and rebranded the service as Treehouse because he thought the name "reflects the wonder of learning as a child."
Treehouse opened its first office in Orlando, Florida, back in 2011. In 2012 the company raised $4.75 million and opened its second office. Then, they moved its HQ to Portland, Oregon. At that time, the company had 34 employees and was hiring even more. Their current number of employees is 166 according to LinkedIn.
In July 2013, Treehouse developed their iPad app, and then moved onto an Android app later in 2014, to help students learn directly from their mobile devices.
Their app offers admittance to 300 videos on the go. Students are also provided with quizzes, exercises, and tasks to assist them in gaining information and expertise.
In May 2016, Treehouse launched the Techdegree program. This is their learning program that basically focuses on assisting people by preparing them for a promising tech career.
On Sep 27, 2019, Treehouse launched a partnership with The Boys & Girls Clubs of America, AnitaB.org, and Aminé called Project: Unlock the American Dream. The program aimed at training people from diverse backgrounds into Software Engineering. The main goal of this program is to empower families to raise their incomes.
Treehouse offers a great variety of courses that cover significant areas of Software Development, web development, web designing, and mobile development. They also have classes on entrepreneurship.
This e-learning provider aims to educate individuals by providing quality content and courses where they can start learning from scratch. Those with an immense desire to learn tech skills can take advantage of a wide range of available classes to nurture their development skills and increase their tech knowledge.
In addition to this, Treehouse offers a free trial, which is a great way to start learning on this platform. Isn't that great?
Advantages of learning on Treehouse
Our job with this Treehouse review is to find out whether it's going to help you learn new tech skills properly or not.
Treehouse aims to be an excellent place for beginner level developers to discover their potential and learn new technologies.
Here are some of the advantages of learning from Treehouse that we're able to discover:
One of the significant features of Treehouse is the quality of its content. Courses comprise refined and accurate material along with practical exercises. There are always relevant topics with high relevance to the current tech environment. They have a library of 300+ videos, and you can watch it again and again.
Instructors are incredibly professional and skilled. They are highly experienced, and they know WHAT and HOW to deliver. They feel really kind and optimistic. The best thing about them is that they seem passionate about teaching their students and helping them increase their knowledge.
Having a hard time coding? Can't decide which course to study next? You don't have to worry about this on Treehouse. As its community is highly supportive and cooperative, you can seek help from their community forum. If you are having any issues regarding coding or if you didn't understand a piece of the lesson. You will always get a helpful answer from your fellow students.
Treehouse provides an excellent learning environment. They use workspaces that grant you with not only an editor but also a console from where you may export your work or download it and use it locally. This is especially relevant in some courses in which you might have to download individual development environments. In case students don't know how to deal with it properly, they make available a step-by-step guide to assist them further.
Usability
When you land on their homepage, you can quickly sign up for their 7-day free trial period.
After being a member, Treehouse offers a very userfriendly interface that most people will be familiar with (a plus point indeed). When writing this Treehouse review, we found out that the website leaves an appealing impression. This is another significant aspect of learning from this site, as it is an easy-to-handle space.
You can also easily find the Techdegree link on the header of the site and then browse job-ready programs for people of all backgrounds and skill levels.
But, if you are not a member, you can't access single courses from the main page (which is not ideal). You have two options, Google them or access their library (this is how they call their catalog of courses) directly.
Once on the library page, you can effortlessly search for courses and topics.
By selecting a course and entering its main page, you will see links to sections such as "teacher" (which leads you to the instructor's page), "what you'll learn" (with the list of topics covered), course syllabus (with the detailed course content), and etc.
From this page, you'll also find links to their Tracks and Community.
Tracks are a bundle of courses and workshops that will teach you a whole technology (from zero to proficiency).
Treehouse community is composed of thousands of students always available to lend support and nudge you to keep going.
Content Quality
The primary concern of anyone who is planning to learn on Treehouse is whether it offers quality content. And rightfully so, as this is what you are paying for! So here is our Treehouse Review to tell you what type of content the site offers.
Unlike other sites that grant their users a free trial without offering the best of their content in this period, Treehouse's approach is different. During their free trial, you have access to whatever courses you can complete in 7 days. Their finest material is available.
Most of the actual students who have taken different courses on Treehouse leave some pretty good and positive comments about the content, suggesting they provide high-quality classes consistently. Quite an excellent job!
Treehouse vs. Udemy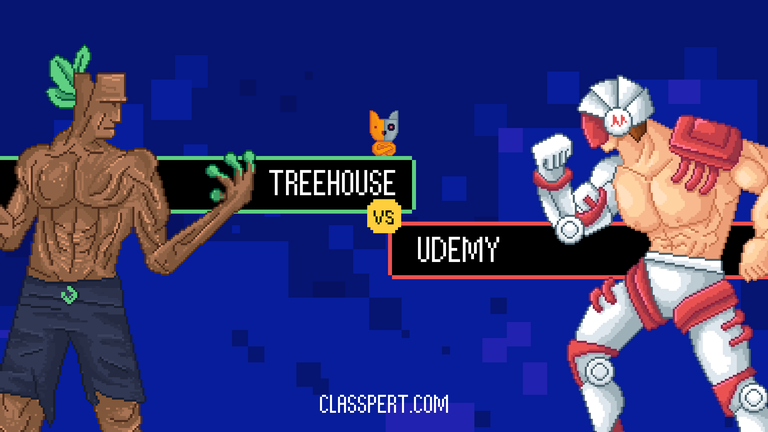 From the last few years, there has been an increase in people who want to teach themselves how to code. This happens because there is a growing demand for this type of professional.
In an attempt to help people to obtain technical education, many e-learning websites started offering online learning with great success.
There is a series of successful startups that can teach you tech skills like Udemy, Treehouse, Udacity, Pluralsight, Skillshare, Frontend Masters, EggHead, and the list goes on and on.
Here we'll compare two of them: Udemy and Treehouse. So, we'll take into consideration their weaknesses and strengths!
Treehouse is one of the most popular learning platforms and is gaining immense popularity (no doubt they deserve so). Treehouse provides 300+ courses on 23 subjects and is really helpful for those who want to learn to code but have no prior knowledge or understanding of the topic.
They teach coding from the basics all the way to the advanced level. Teachers are hand-picked and are a reference in their niche. Because of that, people are really considering this option to kick off their careers in the tech world.
Also, Treehouse's Track feature can really help you on your learning path by providing a sort of roadmap, suggesting what the step-by-step on your learning process.
Let's say you want to become a frontend developer. They will suggest you start with Introduction to HTML and CSS. It then progresses further with other languages like JavaScript and skills you'll need to know to build beautiful and interactive websites.
This guidance is definitely all that a tech student could possibly need. This makes Treehouse extraordinarily useful.
On the other hand, Udemy courses might be taught by anyone. This fact has an important effect on Udemy's content quality.
You can definitely find great courses on Udemy, but the content quality will depend on each teacher. There is no prior curatorship for a class to be posted, so you'll need to rely on students` reviews to find the best options.
Udemy and Treehouse differ from their pricing model as well. While Treehouse works on a subscription basis, Udemy offers single price courses.
Treehouse's subscription starts at $25 per month, providing access to all their +300 videos and courses. In one month, with plenty of time, one can make quite a good foundation to start enhancing their skills further.
However, with Udemy, you have to pay for each class. Courses are all different prices, but most likely, you'll expect to pay around $20-$199 for one excellent in-depth course (almost 4-5 hours).
They both offer self-paced courses, not setting a fixed schedule, giving students more flexibility to complete the classes.
All things considered, to learn to program, we would go with Treehouse. Treehouse is affordable, and you can find Learning Tracks that will lead you to a full knowledge of programming skills.
Udemy can be an excellent choice to learn additional skills. While Treehouse should be a better option to learn an entire topic from basic to advanced levels.
What can I learn on Treehouse?
Treehouse has more than 300 courses on more than 23 subjects. Currently, they have more than 50,000 students enrolled in various classes.
Treehouse delivers excellent content in a fun and easy-to-follow way, whether you are on a basic, intermediate, or advanced level.
The most remarkable feature of Treehouse is their Learning Tracks, where you can follow a sequence of courses, taking you from basic to advance level. Interesting, isn't it?
Treehouse offers an even more in-depth program called Techdegrees, but it takes 6 to 12 months to complete. After that, you may start dreaming of having your desired job!
Techdegrees
The Treehouse Techdegree Program is meant to deliver the "correct portfolio of skills and experience" to help you go from just a beginner to ready to start in a job in a period of 3 to 12 months.
With the help of this Techdegree Program, you can get a full experience in any of the following:
Techdegree Overviews
You'll learn: HTML, CSS, JavaScript, and Development Tools
Comprises: 9 projects, 32 courses, 145 quizzes, 182 challenges
Completion time: 6 to 9 months (82 hours)
You'll learn: Development Tools, JavaScript, Databases, CSS and HTML
Comprises: 10 projects, 34 courses, 166 quizzes, 149 challenges
Completion time: 3 to 9 months (82 to 87 hours)
You'll learn: Intro to Design, Wireframing, Mockups, Prototyping, and User Testing.
Comprises: 31 courses, 10 projects, 114 quizzes
Completion time: 3-8 months (35 hours)
You'll learn: Python, Development Tools, HTML and more
Comprises: 12 projects, 22 courses, 72 quizzes, 227 challenges
Completion time: 3 to 11 months (180 hours)
You'll learn: PHP Syntax, Programming Fundamentals, Object Oriented PHP, Testing and Debuggung,and SQL
Comprises: 12 projects, 25 courses, 106 quizzes, 64 challenges
Completion time: 3 to 12 months (255 hours)
In addition to all of Treehouse's Techdegrees, you'll receive a:
Certificate of completion
A portfolio of 12 real-world projects
A custom curriculum
Proctored final exam
Techdegree programs will cost you $199/month. Most students complete the coursework in a period of 6 to 12 months. You can work through it as per your choice: quickly or slowly. It'll depend on what you prefer (or on what your schedule allows).
Tracks
Treehouse has put together a sequence of courses on the same subject into chunks that are aligned and organized, called learning tracks. By doing so, they are putting the courses in a precise sequence. Yet again, they go from basic to advanced level.
You may merely opt-in for a course of your choice and go along with the track. You can skip courses if you want, as it's not necessary or crucial to follow the whole road map.
But tracks provide you with in-depth insight into each subject. Some of the popular learning tracks offered by Treehouse are:
Thumbs up to Treehouse for granting users with this fantastic feature!
Individual Courses
Treehouse has more than 300 courses on more than 23 subjects, and currently, they have more than 50,000 students enrolled in their service.
Most of the Treehouse courses are concentrated on technology and programming languages. There are various coding topics like:
They also provide courses on other subjects like:
A course usually consists of quality video lectures, quizzes, and assignments.
The videos deliver the technical aspect of a subject. Projects are responsible for giving a practical approach to learning, and quizzes help you check-in and confirm the knowledge you acquired. This allows students to get comprehensive and in-depth information on any topic.
Using an exclusive feature called Code Playground, you may experiment with the code and make changes to it on your own. It shows you the results of your changes on the spot.
While in a subscription, you may enroll in any provided courses. You can just search the course or browse the topic and start your learning process.
Treehouse Teachers
As we mentioned earlier on our Treehouse review, their teachers are highly professional. There are both full time and guest teachers.
They all have solid technical backgrounds and many years of experience.
Teachers are also genuinely keen on enlightening their students to help them achieve new heights of success.
Here we'll mention a few of them:
Keneth Love teaches Python.
Zac Gordon is the teacher of JavaScript for WordPress Master Course.
Want to get started in web designing? Nick Pettit will lead your first leap into HTML, then Guil Hernandez is there introducing you to the world of CSS.
Dean Davidson is software engineer specializing in Microsoft technologies and will teach you how to Become a Visual Studio Power User.
Dave McFarland, with 19 years of experience, brings things to a whole new level with his lessons on JavaScript.
The list is extensive, but no matter who you are getting classes from, all of Treehouse's instructors dedicate their time and energy to teaching, guiding, and helping students learn useful skills and make sense of the world of technology.
Pricing Model
Treehouse provides a 7-day free trial to its users, giving them the chance to check whether they are satisfied with the content and syllabus of the courses of their choice.
This is an excellent opportunity to make your own decision, form your personal opinion, and see if it matches our Treehouse review.
If you need to take a break, you can pause your account, and you won't be charged until you decide to start learning over.
Once the trial period is over, Treehouse offers its users three types of subscription-based payment options. Here are the details:
Basic ($25/Month)
This is for anyone who has no idea whether they will pursue their career in coding or not, or they are just giving coding a try. We can safely say that it is for most of the individuals out there. This is just a beginner level plan, providing you essential tools to get started.
The problem with this plan is you won't be able to view videos offline, and you can't download them either. Keep that in mind!
Pro Plan ($49/Month)
Including all the features of the basic plan, this one offers full access to Treehouse's course library. You will have access to bonus content as well!
The most exciting part is you can watch the videos offline or download them and take your studying anywhere, anytime.
It's really beneficial for people who really are into coding.
Techdegree ($199/Month)
Including all the Basic and Pro features, you will also have the perk of receiving personalized feedback, live projects, and review & commendations from experts.
This plan is helpful for those who want to excel in the tech field and are dedicated to advanced level learning.
Does Treehouse offer a Certificate of Completion?
Treehouse does not certify on completion of basic courses.
In case of completion of a Treehouse Techdegree, you are certified by Treehouse. Thus, you may show the world that you have completed the degree and have gained and built the technical foundation in coding.
Conclusion
Choosing the right e-learning platform that will actually help you in learning technical skills is kind of a difficult task.
Not only the quality of content matters but undoubtedly other things like time and cost management, skills being taught, and the learning environment should also be taken into account.
From the above analysis, we can say that Treehouse is one of the best platforms for coders who want to start their tech careers.
The free trial makes it worth trying, as you can switch it off anytime if it doesn't make sense to you.
Treehouse is one of the few platforms out there that offers a mix of reasonable price and high quality.
If you follow through the content consistently, as Treehouse inspires you to do, on your own schedule, it could take a maximum of 6 months for you to find your first job. This is great, indeed.
You can start with their regular subscription and courses… but looking at the Techdegree program is going to be the most helpful.
If you were looking for a Treehouse review to help you decide to enroll in one of their courses, we've done our part. Look no more and give it a go. You will certainly not regret it.
Interested in learning more about other platforms? Check out these reviews:

I am an economist responsible for Marketing and SEO strategies at Classpert. I usually write about entrepreneurship, e-learning platforms, marketing, SEO, stock trading, and related subjects.