Written By

Felipe Bernardes

Last Updated

March 19, 2020
Masterclass Review: Is Masterclass worth it?

Welcome to our Masterclass review. We want to go above and beyond with this article, so you get the very best information available.
MasterClass has succeeded in collecting some of the most relevant teachers out there. They recorded a lot of their fantastic knowledge and have produced high-quality courses with it.
MasterClass courses are displayed in groups of lessons from 3 to 15 minutes. The effect is a learning environment similar to Netflix, with the extra benefit of having the world's leading experts in their fields as teachers.
What is Masterclass?
People certainly want to learn from the very best teachers, right? This is where our Masterclass review comes in handy.
With the idea of fantastic education from amazing teachers, in 2015, Masterclass was born from the mind of Aaron Rasmussen and David Rogier.
Initially, they had their headquarters in San Francisco, and it was only for production and art studies. Then, they came up with the idea of transforming Masterclass into online education.
With Masterclass, you may learn from James Patterson's thrillers, Steve Martin's art of satire, David Mamet's suspense, Aaron Sorkin's screenwriting, Helen Mirren's and Samuel L. Jackson's performances, Ron Howard`s directing and Armin van Buuren's music skills. Even the incredible chef Gordon Ramsay teaches his cooking secrets on MasterClass.
The library of courses is quite big and grows fast, so this is just a fantastic opportunity to learn from top artists, professionals, and creators. You won't find teachers like these anywhere else! This is an incredibly lucky chance to get "face-to-face" classes with brilliant minds from the comfort of your home.
Sound like a good deal? Then continue reading our Masterclass Review and learn everything about this platform.
How does Masterclass work?
Most Masterclass courses usually consist of 25 video lessons, each of which is 3 to 15 minutes long. Lessons can be taught with the instructor communicating straight to the camera or in a more practical approach, in which the teacher deals with the content by jumping into the action.
In some of the video tutorials you'll find quotes and real examples from previous works of the instructor.
You can take a MasterC\class online and at your own pace, watch it from anywhere by simply opening the Masterclass App, or even watch it at home on you TV.
Masterclass comes in with plenty of content, downloadable worksheets, and reading lists.
They make workbooks available of the classes to enhance the learning from each video with this great supporting content.
Classes follow a straightforward process: lessons begin with an instructive video lesson for each chapter. These videos are intended to give students the critical points of what the lesson is going to be about. Each lesson is short, comprehensive and presents exciting content.
They also offer a downloadable PDF workbook with assignments that can be shared with the student group for feedback and input.
There is a suggested step-by-step learning process in the class workbook, but students can take lessons at their own pace.
It is a relevant part of our Masterclass review, and we'll dive deeper in this topic a bit later, but they used to offer the option to buy MasterClass courses individually. Right now, you can only subscribe to their annual or monthly Membership .
What makes Masterclass different from other e-learning platforms?
In a nutshell, if we had to say why Masterclass gained prominence, we would have, among other reasons, to say that it is due to the quality of the videos and instructors.
It doesn't matter which video you play. The audio and video composition that Masterclass delivers to the student is impressive.
The courses seem to be designed scene by scene. In addition, Masterclass has a select group of teachers, which makes the result nothing but incredible.
In Christina Aguilera's masterclass, for example, she teaches how to use different types of microphones. In this way, the student has the real dimension of all types of sounds that she makes without losing control of her voice.
Another course that shows how much time the Masterclass team has invested in planning the sequence of lessons is that of journalist and writer Malcolm Gladwell, whose review we will do later on.
In addition, it is remarkable how attractive the class settings are. For example, in Gladwell's course, it feels like you are a guest in his home.
Who is Masterclass for?
Masterclass is built for people who want to become or already are: artists, photographers, cooks, designers, singers, painters, and creative professionals.
In contrast to other e-learning platfoms like Pluralsight or Udacity, which focus on tech skills, Masterclass is an engaging environment more focused on the artistic side of learning. It is made for people who want a more hands-on approach from leading professionals in their fields (with some of them being first-time teachers).
Our Masterclass Review will show how this platform is ideal for innovative people who look for inspiration from the most successful humans in the world.
Several other online education platforms focus on providing you with hard skills, such as in areas like programming, web design, business, or digital marketing. On Masterclass, you are going to find a fantastic amount of premium video content that aims to inspire you, make you think outside of the box, and learn from the best.
Masterclass might not be for those who look for an academic classroom setting (or even a regular online class). Instead, it's perfect for those who want a more practical approach to learning where you can set the rhythm by yourself and expand your creativity.
What can I study on Masterclass?
There are tons of topics, depending on your interests. At the time of writing this Masterclass Review, they were offering 100+ courses covering different topics across 9 categories.
In the last few years, Masterclass has reached out to new areas beyond its initial main topics such as writing and creative arts. For example, Serena Williams teaches tennis in her master class and the award-winning record producer Hans Zimmer teaches how to create a film scoring.
Want more?
Werner Herzog and Martin Scorsese teach filmmaking. Annie Leibovitz teaches photography. Chris Hadfield, space exploration. Garry Kasparov, chess. Stephen Curry unveils all his expertise in basketball. Herbie Hancock reveals all his jazz secrets. The list goes on and on.
Masterclass meets all kinds of tastes, while one student may find writing classes helpful, others can learn country music from Reba McEntire.
With so many excellent instructors, finding the right class to get started can be overwhelming. So, our Masterclass Review suggests this: check the teachers first, and then decide which one (or more) matches your interests better.
To help you to do so, here's a comprehensive list of some of our favorite ones.
Daniel Negreanu Masterclass review:
Daniel Negreanu's poker achievements speak for themselves. He has made a fortune of $40 million in poker tournaments, and he is probably the most popular poker player on the planet.
The beautiful thing about this poker education program is that you're learning from the very best.
Learn more about this MasterClass
The purpose of Daniel Negreanu's master class is clear. He wants to train you to think as the top poker professionals do.
Poker is a game of emotions, intellect, and out-smarting your opponents. When you know how to play and think about the game as a world-class pro player does, it's much easier to consistently achieve top results
Daniel Negreanu's Masterclass consists of 38 video lessons.
There are hundreds of topics covered to teach you the basics of poker and take you to the next level. In each lesson, there is an in-depth video along with the coursebook content.
Another thing we've found interesting about Daniel Negreanu's Masterclass is that it doesn't just concentrate on competition. Even though Daniel is well-known for his success in tournaments, like other pros, he still spends a lot of time playing for fun.
Another segment of this poker course that we've found especially fascinating was Daniel's description of his own preparation. A lot of people think that to be a good poker player, you just have to show up and play a few hands. As you will learn on Daniel's course, that's just the tip of the iceberg.
Steve Martin Masterclass review:
Steve Martin, one of the most popular comedians of all time, novelist, musician, and filmmaker, will be your teacher on Masterclass.
Can you believe it?
Learn more about this MasterClass
In his comedy lessons, this world-class entertainer unveils a sense of humor crafted throughout more than five decades.
Take this class to enhance your imagination, discover your comedy voice, explore acting techniques and tactics that will certainly propel you to new heights.
"But I don't have the talent to be a comedian."
Hey, block all of your negative thoughts! Steve Martin, your coach, never felt he had any talent… and then he became a star. He is on the platform to share a validated system that everyone can use to kick-start their career.
Martin wants you to have the resources to turn any atmosphere into a place of joy and fun. With his class, you will get the confidence you need to speak your mind from a funny perspective.
In Steve Martin's comedy masterclass, he dives deep into his comedy career, showing you the challenges he overcame and the reasons for his success. You'll learn how to leave behind your talent concerns and start the path to become a world-class comedian.
There are several online comedy courses, but none of them feature what Masterclass can offer. And that is Steve Martin!
Steve saw it all in the world of comedy. His accolades and prizes are something that you've probably heard of. He started making comedy at a young age and then moved on to amass years of experience that he now puts into his teaching.
We love the entertainment and passion he puts into his lessons as he shares his comedy talents.
Throughout his master class, Martin speaks about how to find your comic voice and how to write and tell jokes. The comedian also presents a variety of exciting takeaways for you.
"Don't be afraid… just start with nothing. In reality, if you start with nothing in mind, the solution will be for you to find your originality."
Martin is a fantastic coach and the most important lesson from this Steve Martin masterclass is how he managed to grow with his mistakes and achievements.
Aaron Sorkin's Masterclass review:
Aaron Benjamin Sorkin is a successful screenwriter and television producer whose works include A Few Good Men, The American President, The West Wing, Studio 60 on the Sunset Strip, The Social Network, Moneyball, and The Newsroom.
When we first heard about Aaron Sorkin's master class, there was no doubt in our minds that it would be a worthwhile investment.
Learn more about this MasterClass
Mastering the craft of filmmaking is a lifelong task. There should be no end to self-education as a filmmaker. The more you accept this journey and welcome the process of learning itself, the more you will succeed as a creator.
With that in mind, when a new educational resource – whether it's a book, a seminar, or a course – comes along, you should definitely be open and happy to receive it. Especially when it's a great one such as Aaron Sorkin's Masterclass.
Truth be told, we have to admit that one of the aspects we love most about this course is its flexibility. Although many screenwriting courses or books market themselves as ideal for "beginners or professionals alike," this is rarely the case. In fact, Sorkin's master class isn't marketed this way at all, but it could very well be.
The amount of information that Aaron shares, and the way he expresses his thoughts, will really help an up-and-coming filmmaker just as much as a seasoned pro. It's the kind of content you'd be able to watch over and over and get more from it every time.
Neil Gaiman Masterclass review:
Are you thinking about taking Neil Gaiman's Masterclass? Neil Gaiman is a talented author, more precisely, a phenomenon in fantasy, science fiction, and mystery books. And his classes are considered to be insightful and inspiring.
Learn more about this MasterClass
If you're curious about whether Neil Gaiman's class is right for you or not, keep on reading our Neil Gaiman's Masterclass Review.
When you sign up to this master class, you expect it to help you with your writing skills, which it absolutely does. But, to achieve your goals, it will also demand your commitment to put in the work and effort needed.
This Masterclass has nineteen videos with a total of approximately five hours and various workbooks. These documents include a piece of text from the class, titles for further study, and very intensive homework assignments.
Can you become a published author with this course? Maybe you can become successful, this course will help you a lot but it will certainly take tons of work.
Maybe the most significant consideration before you sign up to this masterclass is: are you truly committed to writing? If you are, go ahead. You absolutely won't regret the decision.
Gordon Ramsay masterclass review:
Should you want to improve your cooking skills, then check chef Gordon Ramsey and his master class. It can also be a brilliant gift idea, by the way!
Gordon Ramsay is a renowned Scottish chef who is unbeaten on TV with the presentation of reality shows, including Hell's Kitchen, Kitchen Nightmares, and Master Chef United States.
Learn more about this MasterClass
"Masterclass was developed to give everyone the chance to acquire the experience and expertise of the best creators of the world." That is certainly the case with Gordon's lessons.
In his course, the workbook materials match the class contents very well. It has written recipes and some extra helpful tips and links to guides and checklists.
Chef Gordon takes you through 20 lessons that are well written and beautifully produced. He shares his professional experience, life advice, and philosophy all along... with a few "$%@& me!" here and there, but mostly showing his passion and talent for cooking.
Technical skills are demonstrated step-by-step. Gordon shows the ideal layout of the kitchen, his skills with the knife, and the preparation of a whole chicken or fish, alongside other amazing recipes.
You'll have access to and learn real cooking recipes such as poached eggs, scrambled eggs, chicken, salmon minestrone, pasta, and lobster ravioli.
Learn how to cook pretty much anything.
Last but not least, Gordon himself teaches you how to make the perfect Beef Wellington. The dish that he really loves... we are certainly going to give it a go!
DeadMau5 Masterclass review:
DeadMau5 is a Canadian electronic music producer, DJ, and musician, and today is one of the best-selling artists on the EDM circuit. Throughout his prolific career, DeadMau5 has worked and collaborated with many globally renowned artists, DJs, and Producers, resulting in the development of some beautiful pieces of electronic music.
Electronic Dance Music (EDM) is one of the most popular genres of music in the world, and DeadMau5 is one of the top names in this category today
His works have been included in several compilation albums, and have also been featured and seen on popular TV and radio shows, such as Tiësto's In Search of Sunrise 6: Ibiza, and Armin van Buuren's A State of Trance radio show.
Learn more about this Masterclass
"This class is just a good primer for anyone wanting to get into the production of electronic music." according to DeadMau5 himself and, also, he will be able to teach anyone how to get from nothing to something in electronic music production.
Werner Herzog Masterclass review:
What makes Werner Herzog's masterclass so good (among other things) is his experience as a full-time filmmaker.
He is truly an all-round director who has a mastery of his craft in almost every way. In addition to this, he's completely self-taught and basically created his career out of nothing by designing ventures and creating opportunities on his own.
Learn more about this MasterClass
Herzog's master class is an excellent call for DIY filmmakers working on their own micro-budget or self-funded projects. But, even filmmakers working on larger-scale projects that recognize the importance of finding even better workflows will be able to get relevant outcomes from his teachings.
In Herzog's Masterclass, lessons are really conversational and informal. From all the 26 lessons included in his class, none of them feel like "too much work," and we mean that in the best possible way.
The very reason why this class works so well is that it places you in a room with Werner, and helps you to learn information quickly on all things filmmaking as if you were having a conversation with him.
Most of the lessons basically consist of Werner speaking directly to the camera, talking about everything regarding filmmaking, including screenwriting, funding, sound recording, acting, negotiating contracts, camera techniques, and career strategies, among other topics.
It would be a massive understatement to suggest that Werner Herzog covers a wide range of topics in this class. He brilliantly covers the topics that matter.
Malcolm Gladwell Masterclass Review:
Expectations for this class can be high as Malcolm has published popular books like The Tipping Point: How Little Things Can Make a Big Difference; Blink: The Power of Thinking Without Thinking; Outliers: The Story of Success; and What the Dog Saw: And Other Adventures.
Learn more about this MasterClass
The main lesson from this course is that authors should not see themselves as press, but as writers with a story to tell: Gladwell said he found himself in a strange situation, where the concepts and points of his books were frequently misinterpreted by the press.
He said, "Once you've written it, it doesn't belong to you anymore. It's up to your readers. You know, when your readers buy your book, they really buy your ideas, and your ideas become theirs".
More than teaching writers not to supply the ideas, Malcolm Gladwell will teach you to be patient enough to find the ideas.
Malcolm Gladwell's Masterclass is organized in the same fashion as Steve Martin`s Masterclass. Thus, his class is not only a writing course but also a genius guide to marketing yourself as a writer. Very useful!
How much does Masterclass cost?
Masterclass used to offer single courses for $90. But, since May 2020, they changed their pricing model. Now, the company provides an All-Access Pass.
This very important: the all-access pass ensures that you can attend any class without any restrictions.
What do other online learning courses cost? Skillshare charges $15 a month or $99 a year for unlimited subscriptions. LinkedIn Learning (formerly Lynda) costs almost twice as much: $29.99 a month or $299.88 a year. Great Courses have different rates, many of them cost about $50.
Our Masterclass Review should also help you find out how eager to learn you truly are. If you get inspired, you might work your way through their entire library of courses within a year. There are not thousands of classes, but 80+. You can get through a lot of content with an all-access pass in that time: it is undoubtedly the best value money can buy.
Does Masterclass have a free trial?
If you're curious to know if Masterclass offers a free trial, the fact is that they did offer a trial until August 2018. This option is no longer available, so the best alternative is the All-Access Pass (with a 30-day money back guarantee).
How do I cancel MasterClass?
If you have signed up for the All-Access Pass through Masterclass, you can cancel the auto-renewal at any time by going to www.masterclass.com/account/edit.
Click the Cancel button on the Subscription section of the website. The Cancel subscription page will be shown. Select Proceed to Cancel on the tab. Your membership will not be extended at the end of the current subscription period.
Cancelations can be handled via the respective App Stores, in the subscription sections for in-app subscriptions through Apple or Google Play.
Masterclass account sharing:
Masterclass is intended to be used individually and is not suitable for community viewing.
They ask students not to share, copy, or redistribute their materials. Do so at your own risk: they might cancel your account.
Does Masterclass have a mobile app?
Yes! Everything that is available in the Masterclass's desktop version is available in the app.
The design and the layout of the app have an exceptional finish. We couldn't expect anything different since images and videos are a strong point in the company.
You can easily navigate through the photos, and one of the exciting features is that when you click on one of the lessons: you can watch the trailer or enter the experience.
MasterClass vs. other online platforms
Masterclass vs. Udemy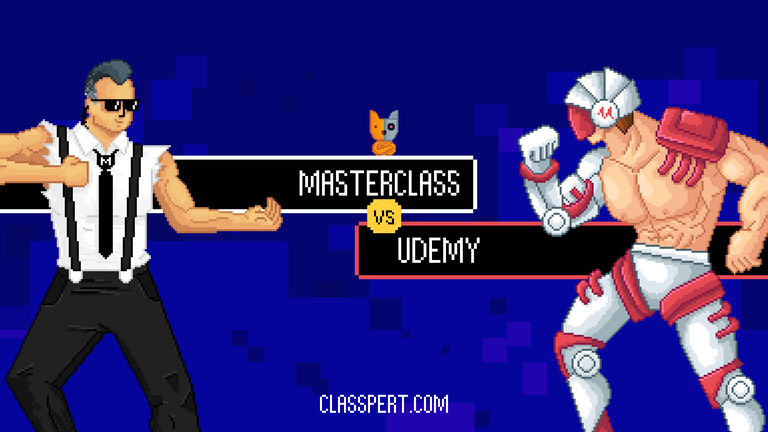 If Udemy is an online course supermarket, Masterclass is a Michelin-star restaurant.
Udemy offers bargain-priced courses that cover almost every subject, from business to psychology, even up to nonfiction writing and programming. Anyone can build and sell courses there. This means that their products differ in price and quality. Udemy also routinely offers discounts on their lessons, much like a supermarket.
Masterclass has two defining characteristics that set them apart from any other online learning system. Firstly, Masterclass hires A++ professionals as teachers. (Steve Martin is teaching satire. Natalie Portman is teaching acting. Serena Williams is teaching tennis. Frank Ghery teaches architecture and design. The list goes on and on.)
Secondly, classes are of the highest quality in both their value and the composition of the learning platform. You can tell that the Masterclass' team spends a significant amount of time coordinating with the teachers to create an outline and sequence for each course to be followed. Thus, the learner gets the best information at the right time. Concepts are built on top of each other.
As we said before, when Christina Aguilera teaches you how to use various microphones when singing, you can hear every example she does with the mics without losing the tone of her natural voice as she describes the process. The absolutely gold standard here. It simply doesn't get any better than Masterclass.
Compared to other online learning platforms, Masterclass has fewer courses and a smaller selection of topics. But, in terms of content and teacher quality, MasterClass stands out.
It is kind of challenging to compare Udemy vs. Masterclass since they are intended to serve different audiences...
Masterclass vs. Skillshare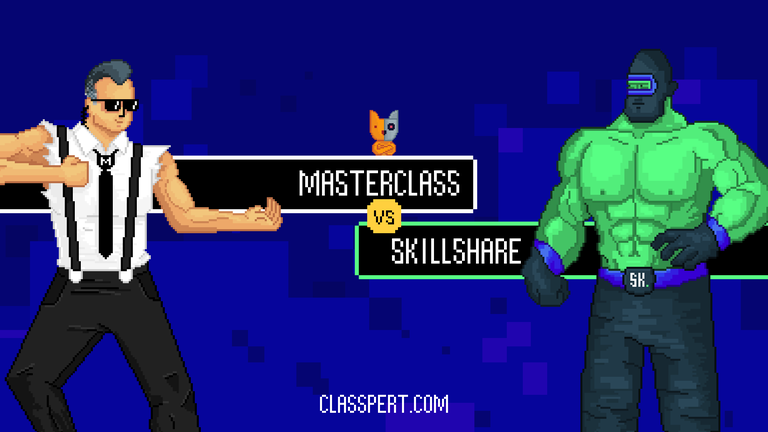 As we said before in our Masterclass Review, we love online education and the different aspects of each platform. In the case of Masterclass vs. Skillshare the most precise thing we can say is: they're totally different.
Both are online educational sites, but they simply can't be compared. Skillshare does have innovative classes, but they do focus on hard skills, such as programming, marketing, web designing, and more.
Masterclass is crafted for those people who are searching for personal growth, and that means you won't get a certificate after your course
On Skillshare you enjoy a free trial. But, Some of their courses are just 10 minutes long, and many of them do not have a piece of in-depth knowledge.
Similar to Udemy, anyone can teach on Skillshare. Although they have launched their Original Series of courses with hand-picked instructors and high-quality videos.
Last but not least, Masterclass has celebrity teachers and instructors.
Where else will you learn from professionals such as Gordon Ramsay or Natalie Portman?
Pros of Masterclass
Masterclass is an online education platform from which learners get motivation, guidance, and insights from favorite celebrities, athletes, artists, chefs, and authors.
Masterclass inherently shows some fantastic perks, such as:
Highly diverse experience
MasterClass offers an excellent opportunity to immerse yourself in the world of exceptional individuals that have had an impact on millions of lives and continue to inspire thousands of others.
Also, it allows you to navigate through selected subjects and learn from the experience of highly successful instructors.
Excellent production value and quality
In fact, Masterclass video output is impeccable. With excellent videography, editing, and development, it's really entertaining to watch their classes. Expect high-quality videos that are highly attractive, methodically organized, and carefully filmed.
Video lessons show the artist's personality and teachings, which make it even more fun to watch. If you want to get an idea of what we're talking about, it's recommended that you check out any of the Masterclass videos (avalable in this article). If you watch them, you'll understand the creativity and how careful they were to build each class.
Affordability
Masterclass provides a reasonable price point for the product that it provides. You have the option to choose from two different price packages: single classes or the All-Access Pass (with the option of a 30-day refund).
Packages include the support of its vibrant community, which is a great addition by the way. It represents a great way to connect and obtain feedback and value from other students. The forum offers an interactive learning environment that encourages students to share their ideas and viewpoints.
The Masterclass Hub
In the previous topic, we mentioned the Masterclass community but let's explore this subject a bit more.
The company created a Hub where you can engage in discussions and ask questions about the classes with fellow students, the Masterclass Hub.
Although Masterclass' goal is to offer knowledge through its celebrity instructors, The Hub is, in some ways, an alternative to engage with other students.
It is quite common to have students posting notes and takeaways about a course.
Some posts receive a lot of replies, which also makes the environment more productive.
It is also interesting to note that the dynamics of the forum is one of the concerns of the team that takes care of the insights brought by the students.
In recent years, the platform has received updates that further improve interaction between students.
It is also frequent for Masterclass to create topics for students to take part in and exchange information with each other.
Finally, it is worth noting that it is still possible to ask questions both by text and videos for teachers.
The stars don't usually reply, but Steve Martin has already responded to one of the students. Maybe you can be the next lucky one to receive a reply.
Cons of Masterclass
As with everything, our Masterclass Review found a negative aspect of the platform. Depending on your type of interest, Masterclass cons may be a deal-breaker for you.
The platform offers a clear window into the world's greatest minds. But…the way some courses are built, it felt like the teachers were focusing more on the fun. Some of the classes felt like the instructor was… on a TV show.
This might be a letdown for people who genuinely look for learning in hardcore courses.
Curiosities about Masterclass
Masterclass is an online learning network that was founded in 2015 by David Rogier and Aaron Rasmussen. It quickly became an online course project that starred the best in the industry as instructors.
Unlike e-learning platforms like Skillshare and Udemy, not just anybody can create a Masterclass. To become a teacher, you must be a true A++ superstar within your profession, making these some of the most epic online courses.
The level of insight and knowledge is balanced, and presented in beautiful videos and workbooks.
Masterclass also has a Twitter account and a Facebook page, so you can stay up to date with all their new class updates and the amazing Ask Me Something sessions.
It`s our call that Masterclass will soon be widening its offerings to topics like Entrepreneurship and Politics.
The beginning
The project started with just over 4.5 million dollars investments in 2015.
The platform went live with only three instructors. Even so, this did not prevent the initial growth of the company, which managed to reach the mark of 30 million students in a few months.
The result was a strong advertising campaign that exploited, as it still does today, its celebrity instructors.
For example, actor Samuel L. Jackson was among the first stars who gave acting lessons.
As for the theme of the classes, the first year, they were focused on topics such as writing, sports and cooking.
Classes about politics, design, economics, video games with famous personalities just started at the beginning of the third year.
Who is behind Masterclass?
Behind Masterclass, you have a team of professionals that produce insane value and videos featuring superstars such as Gordon Ramsey, Neil Gaiman, Natalie Portman, Stephen Curry, Carlos Santana, and many more.
According to CrunchBase, Masterclass's last funding round was Series D, in which it raised $80,000,000 in September 2018.
MasterClass Company has 290 employees and is based in San Francisco, California - according to Linkedin.
How to watch Masterclass on TV?
Masterclass was tailored to the technology world we live in. So, there is a way to watch it on tv.
If you are not a Masterclass member, please go to www.masterclass.com/appletv, because MasterClass is currently optimized for existing students. When you're done creating your account, go ahead and follow the login instructions.
Please note that the Masterclass TV App only supports Apple TV 4th generation or later.
You'll be able to turn on closed captions for the video lessons.
Important note: there is no offline viewing through the Apple TV app, you'll need an internet connection to watch the lessons.
Which is the best Masterclass?
It really depends on what you are looking for. However, we have included the top sellers and most viewed master classes in our Masterclass review, so you can know what other people consider best:
Gordon Ramsay has 16 Michelin stars under his belt and has hundreds of restaurants. He also has the most views on his Masterclass page.
People really seem to like those 20 detailed cooking lessons from Ramsay on his Masterclass.
Gordon Ramsay`s MasterClass subjects include optimum kitchen design and layout, basic cooking skills, knife skills, finding perfect ingredients and dishes such as Beef Wellington, lobster ravioli, and brioche poached eggs and mushrooms. Whoever attends his classes can access a free workbook containing recipes, recaps, and reviews from Ramsay himself.
The second most viewed class would be Deadmau5's master class. It really makes a difference, and is regarded as a life-changing experience for the students that have experienced the course.
This in-depth guide to electronic music production involves lessons on the right equipment for you to buy — breaking down what you really need and what you don't — as well as creating melodic structures and transforming them into arrangements. And if you want to learn more about the entire process of EDM production, look no further: you'll find lessons dedicated to the synthesizer, remixing, mixing, and mastering.

Is Masterclass worth it?

With this Masterclass Review, our research led to a clear idea about what's going on with the platform.

We've found that each course was different in the way it was structured and felt. Some were very pragmatic in their approach, offering step-by-step action (Wolfgang Puck's is a good example), whereas others felt more analytical and strategic in their nature (Malcolm Gladwell's).

This diverse style and level of detail are enjoyable. Masterclass courses are not predictable, and you never know precisely what you are about to discover but expect to get your mind-blown almost every time.

We also admire the fact that, even with different approaches, every teacher is representative of how they want to show their art, convey their message, and spread their knowledge.

There will be a few occasions when you wish some of the creators can go deeper to demonstrate some more "how-to" aspects of their work. Masterclass's instructors are so good at their professions that we would love to see them bring everything to the table.

So, at the end of this Masterclass Review, we can conclude that every class is totally worth attending (with some of them being more technical and others being more entertaining) and that the All-Access Pass is probably your better choice.

Interested in learning more about other platforms? Check out these reviews:

I am an economist responsible for Marketing and SEO strategies at Classpert. I usually write about entrepreneurship, e-learning platforms, marketing, SEO, stock trading, and related subjects.